Bodega Babies
Steven Montinar (2021)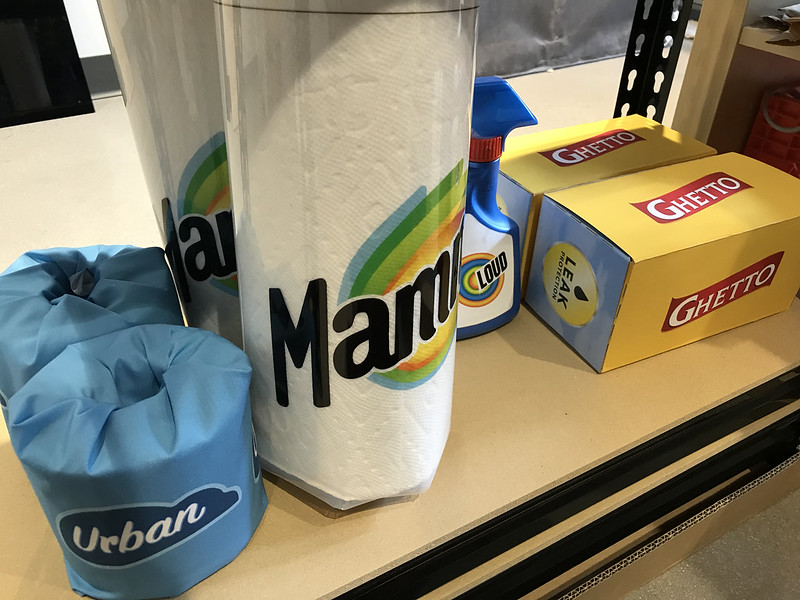 With the support of Microgrant #2021-004 from the Frank-Ratchye Fund for Art @ the Frontier, School of Art undergraduate Steven Montinar created Bodega Babies, a bodega-inspired installation featuring various food and toiletry items with altered labels commenting on Black stereotypes, associations, archetypes, and slurs.
A "bodega" is a convenience store in New York. They typically are stocked with frozen or nonperishable foods, candy, toiletries, tobacco products, household items, and over the-counter medicine. Although a bodega is associated with New York, this type of corner store tends to be common in many densely Black populated areas nationwide. For these communities, the proximity to farm markets and grocery stores are far and their regularity is infrequent. The imbalanced ratio of corner stores to grocery stores in Black neighborhoods are so great that the lack of access to fresh foods, result in growing dietary-based medical issues amongst America's Black community as a whole.
Bodega Babies is inspired by Swizz Beatz's "Cold Blooded." In the song, rapper Pusha T delivers the lyrics "bodega babies, strollers in the snow to the candy lady, that sugar made the monsters of the 90s crazy". Bodega Babies uses the imagery of a corner store as a vessel to display a re-vamped concept of the "you are what you eat" idiom, except with the force-fed perceptions and stereotypes of Blacks in America. The installation touches upon the themes of environmental racism, Euclidean zoning, food deserts, non-Black gaze, prejudice, and relational aesthetics.