"B.A.P." Black Improv History Anthology Project
Mary Parker (2022)
Black Improv History Anthology Project by Mary Parker :: Supported by FRFF (#2020-040) from STUDIO for Creative Inquiry on Vimeo.
The Black Improv History Anthology Project (B.A.P.) is a blending of live performance, story sharing, and documentary filmmaking to uplift Black artists, improvisers, and comedians. Practically, and on a human level, the anthology is an opportunity for Black improvisers to meet, bond, and share their oral histories within improv comedy, with each other, and with the global improv community. Historically, the history of theatre and comedy has been white-washed, told through the lens of white normativity, a worldview that centers people of European descent, while excluding peoples from the global majority. White normativity, and anti-blackness specifically, is reinforced by implicit biases and the machinations of predominantly white institutions within the arts and entertainment industry. This project aims to shatter white supremacy and disrupt Eurocentric narratives by centering Black stories that are told, celebrated, and documented by Black people. Engaging a Black women-led leadership team, we intend to honor the authenticity and multiplicity of Black experiences on the stage, while ensuring the culture, language, and spirit of the stories being told are maintained.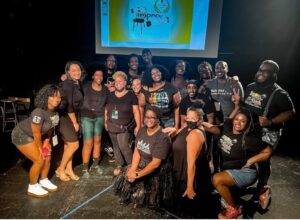 The Black Improv History Anthology began in Baltimore City, Maryland on the ancestral land of the Piscataway People at a Black improv comedy festival called From Another Mother Festival (F.A.M. Fest). Hosted by the Baltimore Improv Group, a non-profit improv theatre, FAM Fest featured Black comedians and improvisers from across the United States. Each artist performed for local audiences over the course of the weekend in the Summer of 2022. There, they shared their stories with our documentary crew in 1-on-1 interviews. They illuminated their journeys as artists in a predominantly white performing arts industry, offering insight into their creative process, origins, and aspirations. As a collection of testimony and original improvisations, this anthology will be the first of its kind, spotlighting Black improvisers and comedians; celebrating their artistry and individual pathways. Our hope is to recognize and honor the lineage of Black improvisation while inspiring new generations of artists to share the stage.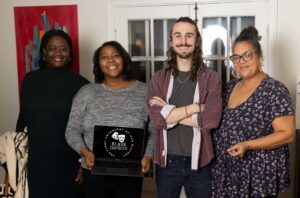 As the Black Improv History Anthology grows and evolves as a docu-series, the production team will strive to highlight improvisers across the African diaspora, in different cities, neighborhoods, and centers for learning. As an emergent art form and enterprise, the work of recognizing and uplifting Black artistry and improvisation will never be done, but we are confident that this anthology is an essential step in preserving our history, honoring our present, and imagining a better future.
As many of those whom we interviewed made note, improv is a study of and practice in freedom. Liberation is the collective freedom of people. As Black liberation continues to blossom, works like this anthology will serve as foundations for beautiful futures, beautiful stories, and discoveries that are co- created in spaces that unlock the imagination, spaces like the theatre or the stage, where a sense of play can be recovered and a sense of possibility can be expressed.
This project was made possible by FRFF Full Grant #2022-040.