87.5 to 108.0, 530 to 1710
Alex Lukas (2017)
87.5 to 108.0, 530 to 1710 by Alex Lukas :: Supported by FRFAF from STUDIO for Creative Inquiry on Vimeo.
On November 2nd, 1920 (ninety-seven years and one day before the exhibition opening) the world's first commercial radio broadcast was heard on KDKA Pittsburgh, then known as 8ZZ. Utilizing technology developed by engineer and enthusiast Frank Conrad just a few blocks from Powder Room, the voice of Leo Rosenberg relayed presidential election results to a rapt local audience before the arrival of the next morning's newspaper. It was, at the time, a historically speedy conveyance of information.
Today when the radio dial in the car scans endlessly, looping back and forth from 87.5 to 107.9 to 87.5, it indicates that one is "out there", isolated, driving incommunicado. When the radio signal is removed, it can be a sign of distress or dislocation. Witness the jarring tone of the Emergency Broadcast System, a monthly cold war hangover injected into the home. It is not surprising that this losing-the-signal has become a trope of post-apocalyptic fiction, a metaphor for societal breakdown epitomized by the absence of pop-connectivity. No more news and weather on the tens. No more top 40. No more pledge drives. This removal of information becomes a slowing, a breakdown, a reversion to an uncomfortable pre-technological age.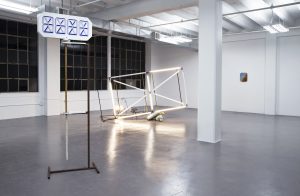 87.5 to 107.9, 530 to 1710 presents new sculptures and paintings by Alex Lukas examining this space of breakdown. Interrogating the aesthetics of radio both historically and in speculative post-apocalyptic futures, Lukas' work examines removal of the lifeline provided by terrestrial broadcast. Through a series of works utilizing the format of the digital display, an efficient form capable of replicating the English alphabet, select punctuation, and digits 0 – 9, Lukas presents relics of radio in an imagined future.
87.5 to 107.9, 530 to 1710 is supported in part by funding from the Carnegie Mellon University Frank-Ratchye Fund For Art @ the Frontier.