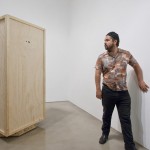 Wade Marynowsky
Former Fellows
Dr. Wade Marynowsky is a Sydney-based artist and researcher working at the intersection of art and technology to develop new audience experiences. His interdisciplinary practice includes robotics, immersive / interactive installation, performance, music and video. Marynowsky holds a Doctor of Creative Arts from the University of Western Sydney, and a Master's degree in Fine Arts from the University of New South Wales.
Forged from the artistic legacy of conceptual and performance art, Marynowsky's work is fundamentally concerned with the questioning of classical spectatorship and performance. His installations combine 'artificial-life' and 'live art,' causing technology to perform within a system of programmed parameters that allow the work to continually unfold and evolve.
Marynowsky has exhibited and performed extensively since 1998. Recent robotic works include: The Acconci Robot, an interactive robot that follows you unawares, appearing as a shipping crate of minimal design, and The Hosts, a Masquerade of Improvising Automatons, which consists of five larger than life sized autonomous robots that recall an 18th Century masquerade ball. The masquerade of artificial intelligence is questioned in the work, through audience involvement within the robotic ball.
At the STUDIO, Marynowsky is continuing his research of robotics and art, focusing on his interests in 18th Century automata and the further development of relationships between humans and robots through interactivity and artificial intelligence.