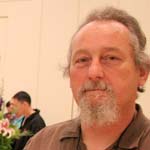 Thomas Merriman
Former Fellows
Thomas Merriman is a teaching professor in the School of Design and teaches courses in furniture design, form generation, and prototyping. His primary interest is in the process of reconciling design intent with the constraints of materials and process in the generation of form.
As a fellow at the STUDIO, Merriman, in collaboration with his wife Constance, studied the role of the natural world in urban environments and the role of humans in the natural world.  Merriman also collaborated with faculty from the School of Psychology at New York University to develop methods and instrumentation for studying motor skill development in infants.
Merriman holds a BFA in Sculpture from Carnegie Mellon University and previously worked for the U.S. Steel Corporation and was a partner of The Transit Shop, a co-operative furniture making shop. He continues to design and build furniture for private clients.