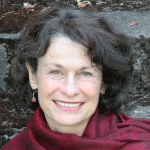 Theresa J. May
Former Fellows
STUDIO Fellow, Dr. Theresa J. May, is an assistant professor in Theatre at the University of Oregon where she is also artistic director of the "Earth Matters On Stage: Ecodrama Playwrights Festival". Her research and creative work explore the intersections between ecology, community and issues of race, class and gender. Her articles on ecocriticism and feminism have been published extensively, including in The New England Theatre Journal, The Journal of Dramatic Theory and Criticism, On Stage Studies, American Drama, and Theatre Studies. As a director and creator of community-based theatre, she has worked as a playwright and director with Tribal Communities in California and Oregon. Her current book project is Earth Matters On Stage: Ecology and American Theater.
She is currently collaborating with STUDIO fellow Wendy Arons on the "Performance and Ecology" project which focuses on the power of performance and theater to raise awareness about ecological issues, stimulate activism, build coalitions, and generally move and inspire spectators to action.
May holds a PhD in Theatre History and Criticism from University of Washington, an MFA in Acting from the University of Southern California, and a BA in Drama from the University of California at Irvine.