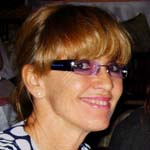 Robin Gianattassio-Malle
Former Fellows
Artist and journalist Robin Gianattassio-Malle is the founder of Blue Egg Media, a California-based consultancy that focuses on developing investigative journalism programs and persuasive narratives for North American and East Asian audiences. Gianattassio-Malle's work is predicated on the use of aural media as a technology and art to engage and activate "seers" and "hearers" in ways that may encourage dynamic participation in community and the world.
Gianattassio-Malle began her broadcasting career as a freelance producer and reporter and contributed to AIDS in Focus, Monitor Radio, and National Public Radio, and locally for KQED and KPFA. Upon receiving a MFA from the San Francisco Art Institute she was awarded three media arts grants from the National Endowment for the Arts to produce radio documentaries on issues ranging from multicultural and intergenerational friendship to living with a life-threatening illness.
She began working at KQED Radio in 1989 and in 2000, Gianattassio-Malle's work was honoured with a John S. Knight Professional Journalism Fellowship at Stanford University. The year-long fellowship allowed her the opportunity to deepen her understanding of some of her Forum beats, which include a range of issues from business, healthcare, the high-technology and biotechnology industries, to anthropology, art and poetry.
Additionally, her Forum and freelance work have been recognized by awards and fellowships from the Corporation for Public Broadcasting, the World Affairs Council, the American Bar Association and the California Teachers Association, among others.