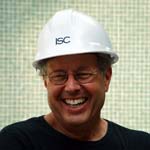 Robert Fisher
Former Fellows
The late Robert Fisher was an artist, scientist, designer, and engineer. He is the founder of his self-named company which continues to produce verisions of his popular large hanging metal sculptures. His academic career included positions at Colorado State University, University of Illinois and Penn State where he was Artist-in-Residence at both the College of Engineering and the School of Communications.  He was Artistic Director and co-producer of two interactive planetarium science programs funded by the National Science Foundation — "Into the Living Cell" and "Gray Matters: The Brain Movie".
Fisher's interest in larger scale pieces led in 1979 to his innovative use of computer visualization to model his increasingly complex objects. Fisher is considered a pioneer in the application of the computer to art. Among his earlier works, all of which have generated considerable press, are "Olympos", an architectural light sculpture illumination for the 1996 Centennial Olympics in Atlanta; the 1986 work, "Osaka Skyharp" in Japan; "Northern Lights", a 70 foot high suspended sculpture for the Playboy Casino in 1981; and "Galaxy", a recently restored 86 foot high sculpture in Boston in 1983, all considered seminal examples of the use of the computer in art.
He has completed a monumental 40' high exterior kinetic sculpture, "Dihedrals", for Gateway Exchange in Columbia, MD; an 80' wide innovative suspended sculpture, "Slice of Life," for AstraZeneca Pharmaceuticals in Wilmington, DE based on the form of a cell; "Sea Creatures" suspended sculptures at the Harbor Branch Oceanographic Institute in Fort Pierce, FL and a 70' high suspended sculpture, "Reigning Knowledge", for the National Education Association in Washington, D.C. Other sculptures installed in 2000-2002 are sited at the Penn State Applied Research Lab; the Penn Stater Conference Center; Grounds for Sculpture, Hamilton, NJ; Presidential Towers in Chicago, IL; ELG Haniel Metals in Pittsburgh, PA; Jackson National Life in Lansing, MI; and Booz Allen Hamilton, McClean, VA.