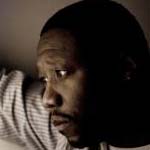 Regi Allen
Former Fellows
Regi Allen is an editor, producer and media design artist, who is currently developing new show ideas for television and alternative media. He studied philosophy and architecture at The University of Barcelona and worked for eight years in commercial online editing at Editel NY, Windsor Digital (Unitel Post 398) and Chelsea Post NY before becoming a video artist.
His prior works include. "Planet Brooklyn, An Acid Jazz Film" for PBS's Reel New York Film Series, hosted by Laurie Anderson, and a Planet Brooklyn (1996) video art series that won various film festival awards including The Community Choice Award for Best Experimental film, from the National Black Programming Consortium; he has also won Best Show Award, from Washington D.C.'s Rosebud Foundation for his work on the video art-poetry documentary Voices Against Violence (1994).
Allen was awarded a twelve-month appointment as a Research Fellow of the STUDIO in 1997. There he developed a multi-media campaign for media literacy that examined the power of images and imagery in pop culture. While in Pittsburgh he also produced and exhibited various works at the Andy Warhol Museum in Pittsburgh.