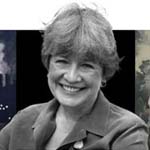 Mary Schmidt
Former Fellows
Mary Schmidt the Associate Dean of the School of Art & Design at the University of Michigan.  Previously she has served as Associate Head and Senior Lecturer at Carnegie Mellon University School of Art, and as Associate Director of the University of Pittsburgh College of Arts and Sciences Academic Advising Center.  As a fellow at the STUDIO she developed multimedia technologies for teaching and learning.
At Carnegie Mellon, Mary collaborated in the development and implementation of new curricula and the establishment of international exchange programs and interdisciplinary programs across the university. She was also responsible for human resources, budgeting and finance, student advising, and teaching. As an educator, she was a leader in the development of teaching technologies for art history, attracting national recognition and numerous grants for the development of database-driven classroom software and a complex, interactive web site of supplementary materials for asynchronous learning.
At U-M, Mary has primary responsibility for A&D undergraduate education. In that capacity, she collaborates in the development and implementation of the new undergraduate curriculum, develops international programs, and works to expand student exhibition opportunities. She also oversees the Academic Services Office, which is responsible for recruiting, admissions, advising, career development, degree certification, and alumni connections.
For the last several years, Mary's studio practice has been secondary to her administrative role. However, she maintains an active interest in printmaking… and motorcycling.