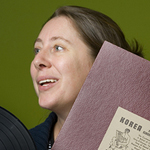 Hyla Willis
Former Fellows
Hyla Willis is an artist who has appeared nationally and internationally as a founding member of subRosa, an art collective focusing on the ways women are impacted by rapidly-evolving biological and communications technologies. Willis has performed, exhibited, and given workshops in Europe, Asia, Australia, and throughout the North America. She is an Associate Professor of Media Arts at Robert Morris University in Pittsburgh.
Willis is interested in the cultural and political economies of graphic design, creative experimentation, and acoustic ecology. She enjoys teaching and practicing design because it fully engages both her critical and artistic skills, and believes her students can use their education to create sustainable careers and to facilitate understanding, change, and excitement in the local and global communities in which they participate.
She is a past President of AIGA Pittsburgh, a recipient of two Pennsylvania Council on the Arts Fellowships in New Genres, and has received a Creative Capital grant in Emerging Fields.