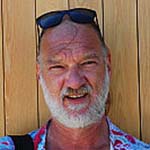 Bob Bingham
Former Fellows
Distinguished Fellow and former co-director of the STUDIO, Bob Bingham is a sculptor and makes art that incorporates systems of growth, live plants and natural materials with mechanical and electronic devices. Bingham's work has been widely exhibited in the United States, Italy and Japan including The Institute of Contemporary Art, Philadelphia; The Brooklyn Museum; The Andy Warhol Museum; Mattress Factory; Ecovention, Contemporary Arts Center, Cincinnati; Kanagawa Hall Gallery, Yokohama, Japan; Art+Nature, Rico Gallery, Santa Monica; and Urban Paradise/Gardens in the City, Paine Weber Art Gallery, New York.
His public installations include Creative Time's Brooklyn Bridge Anchorage; in Piazza del' St. Stepheno Rome, Italy and the first Pittsburgh Center for the Arts Biennial. He co-directed an interdisciplinary team effort, The Nine Mile Run Greenway Project, that culminated in exhibits at the Wood Street Galleries and the Regina Miller Gallery in Pittsburgh. This greenway project led to the formation of the Nine Mile Run Watershed Association and the largest ecological urban stream restoration in the USA.
Bingham received a BA in art from Montana State University, Bozeman and a MFA from University of California, Davis. His work has been acknowledged with awards and grants including a National Endowments for the Arts fellowship, a Pennsylvania Council on the Arts fellowship, Pollock-Krasner Foundation, Art Matters, Inc., Three Rivers Environmental Award, The Heinz Endowments and several Berkman Faculty Development Fund Grants.