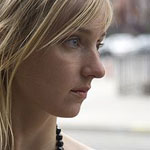 Addie Wagenknecht
Artist-in-Residence
Former Fellows
Addie Wagenknecht was born during the Reagan administration in Portland, Oregon. At sixteen she fled to New York City where she studied experimental photography at the International Center for Photography.
Soon after she received an invitation to work under Mary Ellen Mark and quickly learned where to get very expensive haircuts. For the following two years, she hitchhiked around the world documenting places and people with her camera, before returning to New York City in 2005. There she completed a Masters at New York University as a Wasserman Scholar and shortly after held a fellowship at Eyebeam Atelier, CultureLabUK and more recently at HyperWerk Institute for Post-Industrial Design. Her thesis at NYU focused on computational fabricated forms and computer vision with an emphasis on open source multitouch systems. In 2006, Wagenknecht founded with her husband Stefan Hechenberger, the New York City and Vienna based research and development lab, NORTD labs, which developed the open source system called CUBIT (multi-touch) and the more recent iteration TouchKit. From 2007 to 2008 she was a fellow at Eyebeam Atelier. In 2011, under NORTD labs she was a fellow at Culture Lab. During 2012 NORTD labs held residencies at Hyperwerk Institute for Postindustrial Design in Basel, Switzerland and was a short term fellow at the STUDIO in March. Wagenknecht is currently a Resident at the New York City based Free Art and Technology Lab aka F.A.T. Lab.
Wagenknecht's most recent works include 'ctrl+z: the career machine', in which she sets up 'donations points' offering women the chance to get their careers back by 'donating' their children to science. 'ShadowProject', a collaborative project with Stefan Hechenberger, that involves a series of reactive wall like installations about computer-controlled architectural components. SAHM (stay at home mom), a twenty-four-hour long public performance in which the artist actions become a critique of what she calls 'social genetics'. As a woman vacuums a 5×7 foot rug in Union Square Park, twenty-four hours pass by in the city around her. The live performance is a manifestation of the belief that we are raised on generational myths that perpetuate a lifestyle or expectation that women are the primary homemakers. Thus they must sacrifice for the family and home because it is accepted, expected and honorable for them to do such. Currently NORTD Lab is in the final phases of developing an open source laserscutter called Lasersaur which has already received numerous awards and international media coverage.
<!- View not found ->