Support Creative Inquiry at the STUDIO!
On this global day of giving, we hope that you'll consider including the STUDIO among your contributions! For more than 30 years, the Frank-Ratchye STUDIO for Creative Inquiry has served as a transmitter of experimental ideas and an incubator for activities on the edge—where the unnameable can be nurtured. Our Director's Fund fuels the programs, projects, and people that advance the STUDIO's mission: to support atypical, anti-disciplinary research at the intersection of the arts, science, technology and culture.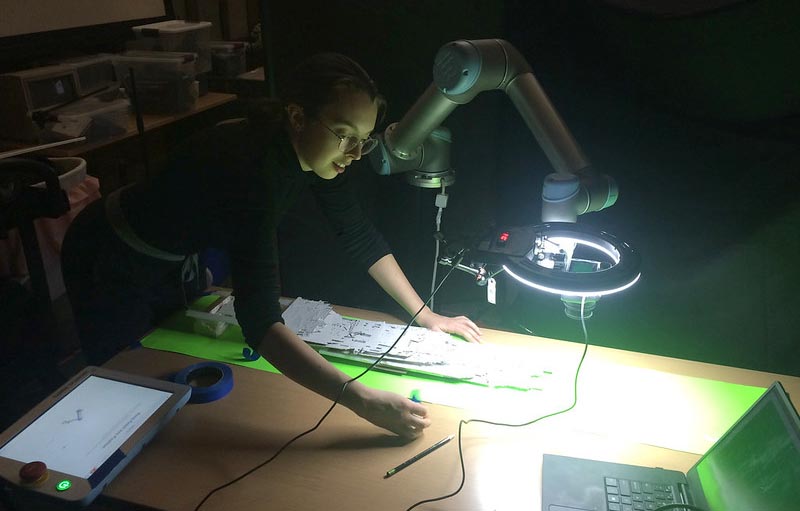 The STUDIO is an improbability incubator, a collaborative social sculpture, and a creativity cocoon for an amazing community of hybrids and oddkins. This diverse mix of students, faculty, and visiting artists-in-residence makes the STUDIO a completely unique environment — an egalitarian space where anyone, from any discipline or life-stage, can develop and contribute to world-class creative projects.
The STUDIO supports emerging artists who create and adapt emerging media. Our people work at the frontiers of diverse fields such as virtual and augmented reality, interactive robotic installation, generative arts, playable art, critical software, biological art, tactical media, experimental interaction design, relational art, and other forms of cultural instigation. Our Director's Fund allows us to support this inspirational research, as well as the conferences, residencies, apprenticeships, and open-source projects that fuel our students' growth and redefine the role of artists in a quickly changing world. Your gift to the STUDIO Director's Fund will inspire hardworking, creative artists from across Carnegie Mellon and beyond!
---
How to Donate to the STUDIO
Carnegie Mellon now supports U.S. tax-deductible donations with cryptocurrencies, such as Ethereum. If you choose to donate cryptocurrency, please be sure to email gift-administration@andrew.cmu.edu in order to specify the STUDIO as the designation for your gift.