Taeyoon Choi Artist Lecture
April 3, 2014 5:00 PM–7:00 PM
Frank-Ratchye STUDIO for Creative Inquiry,
CMU College of Fine Arts, Room CFA-111 
NYC-based artist Taeyoon Choi presents his influential work as founder of the School for Poetic Computation (NYC) and the Making Lab (Seoul). 
Taeyoon Choi (http://taeyoonchoi.com) is an artist, educator and curator based in Brookyn, NY and Seoul, Korea. He is the co-founder of the School for Poetic Computation, a small artist-led school with the motto 'More Poems, Less Demos'. His art practice involves hacking, drawing, circuit-bending and storytelling in ways that are often related to intervention in public spaces.
Taeyoon often collaborates with other artists, activists and professionals from other fields to realize socially engaged projects and participatory experience. Recently he has been curating exhibitions and education programs for Anyang Public Art Festival in South Korea, where he directs the Making Lab, an artist-run Makerspace. He is committed to open-source and free knowledge, and serves as an advisor to The Public School New York. Taeyoon was an artist in residence at the Eyebeam Art and Technology Center between 2008 and 2011.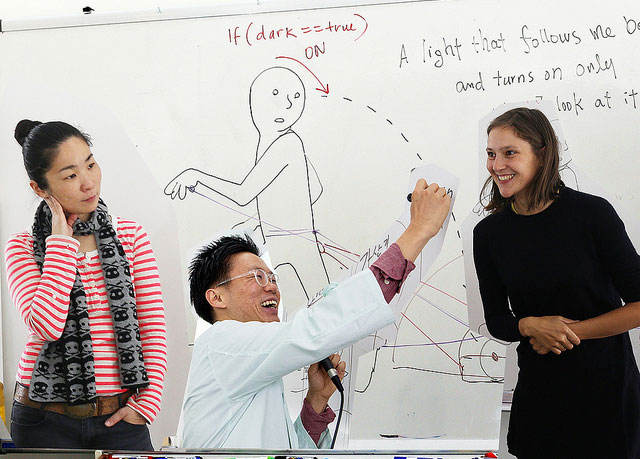 Taeyoon Choi with
KOBAKANT
(Mika Satomi and Hannah Perner-Wilson)
Taeyoon writes:
My projects reside on the borderline of function and fiction, mixing melancholy and humor, providing critical reflection on human relationship with technology. While my artistic process involve technical research and development, the end goal is social and aesthetic exploration of our relationship with technology. In this presentation, I'll discuss recent developments in organizing and teaching the School for Poetic Computation and Making Lab at Anyang Public Art Project, and also some plans for new projects at the Frank-Ratchye STUDIO for Creative Inquiry.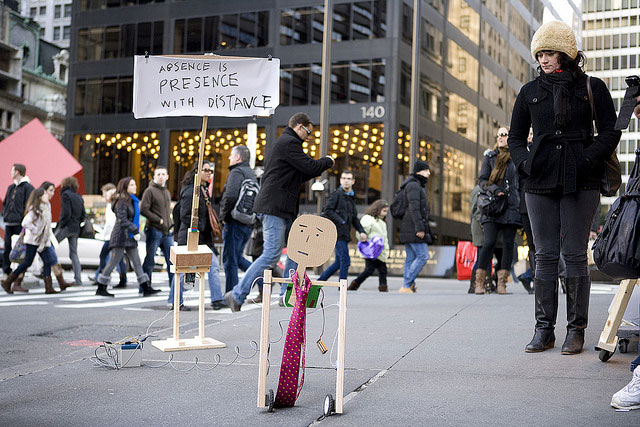 Taeyoon Choi, Occu-bot (2011)