Spring 2021 #OSSTA Lecture Series
April 26, 2021–April 29, 2021
Join us for four evenings of lecture presentations by the STUDIO's cohort of artists-in-residence! During Spring 2021, with support from the National Endowment for the Arts and the Clinic for Open-Source Arts, the STUDIO has hosted a group of creative technologists who are developing Open-Source Software Toolkits for the Arts (#OSSTA). From April 26th through 29th, 2021, our guests will deliver a series of free evening presentations about the free tools they've been working to realize—and the creative practices that have motivated them to create these new tools.
Online, April 26-29, 5-7pm EST • [Register HERE ➡️]
All presentations will be streamed live on YouTube from 5-7pm EST. Attendees who register will also be able to participate interactively via Zoom. Registration is free. The schedule of presentations is:
Monday, April 26 (YouTube Stream HERE):
Everest Pipkin, Nathalie Lawhead, Marina Kittaka, Kate Compton
Tuesday, April 27 (YouTube Stream HERE):
A.M. Darke, Bomani Oseni McClendon, Valencia James
Wednesday, April 28 (YouTube Stream HERE):
Patricio Gonzalez Vivo, Reza Ali, Char Stiles, Chris Coleman
Thursday, April 29 (YouTube Stream HERE):
Cassie Tarakajian, Luca Damasco, Luis Morales-Navarro, evelyn masso
---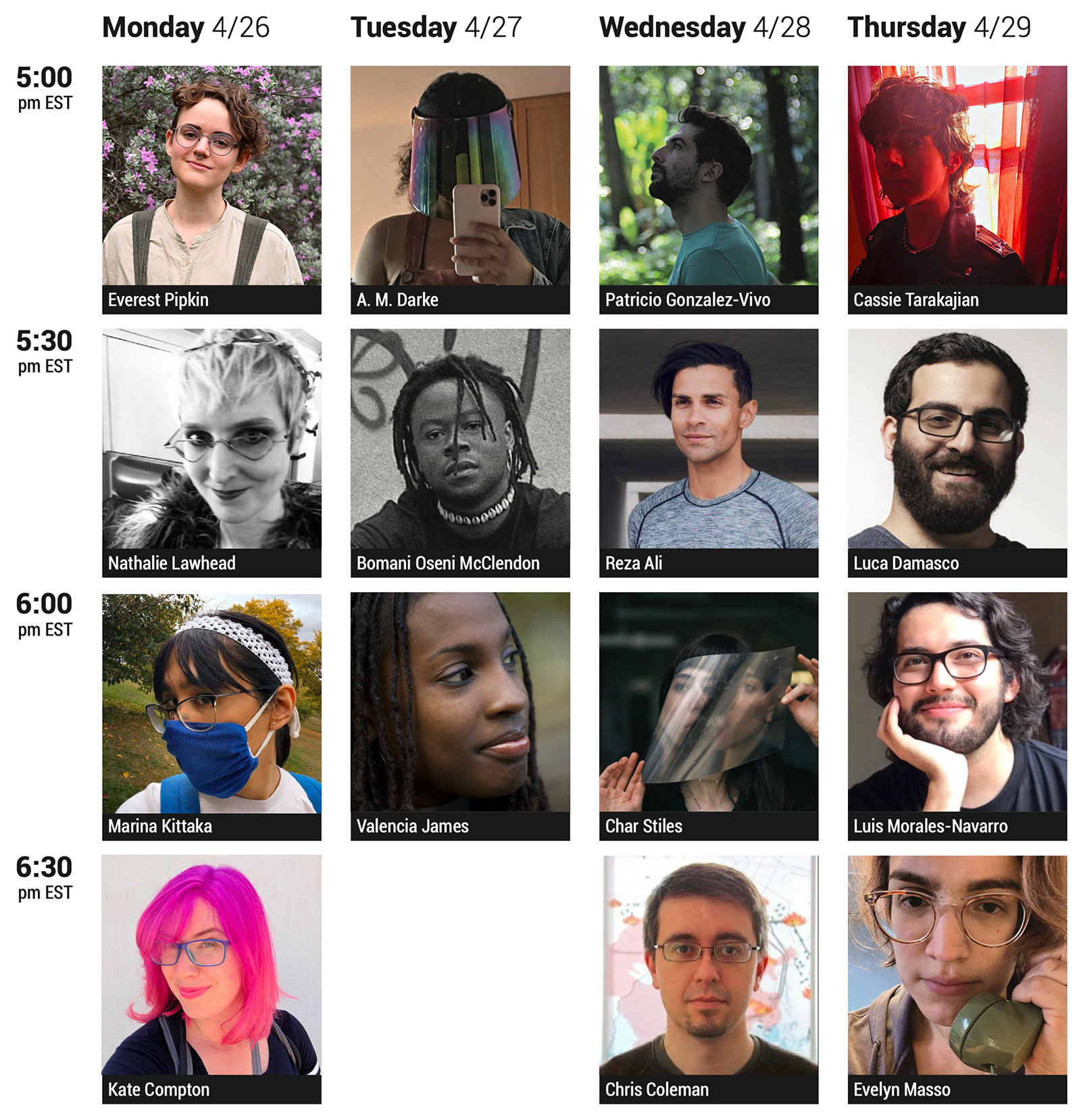 2021 OSSTA Creative-in-Residence Biographies
Adam Le Doux (@adamledoux) grew up in Georgia, where he and his younger brother spent their time trawling internet FAQs to unlock the secrets they were sure were hidden in their favorite Game Boy games. In college he studied Computational Media at Georgia Tech, before moving out west to Seattle for work. He made the first version of Bitsy in 2016 as a tool for making games on the bus, and has continued to steadily work on it in his free time. Every month he hosts a Bitsy game jam with a different theme, and enjoys being part of or attending other Bitsy-related events such as the "Bitsy Jim Jam" collaborative game, the "Pixels x Paper" showcase at Babycastles, and LIKE LIKE ONLINE's "An Itsy Bitsy Crisis". He lives with his partner, Mary-Margaret, and their enormous sleepy black cat, Totoro.
A.M. Darke (@prettydarke) is an artist and game maker designing radical tools for social intervention. Still in the class war. Now in the pandemic. He's in the combination class war and pandemic. Assistant Professor of Digital Arts and New Media, and Critical Race and Ethnic Studies, at UC Santa Cruz, Darke also directs The Other Lab, an interdisciplinary, intersectional feminist research space for experimental games and new media. She recently launched 'Ye or Nay?, a Kanye West-themed game about Black culture, and is currently developing the Open Source Afro Hair Library, a 3D model database for Black hair styles and textures. Darke holds a B.A. in Design and an M.F.A. in Media Arts, both from UCLA. Her work has been shown internationally and featured in a variety of publications, including Kill Screen, Vice, and NPR.
Bomani Oseni McClendon (@bxmani) is a Brooklyn-based engineer and educator working with software and electronic crafts. A contributor to the ml5.js project, Bomani builds software to support artists and teaches electronic circuitry and physical computing to undergraduates at Parsons School of Design and through free programs for primary school students in Red Hook, Brooklyn. In his creative practice, Bomani studies the ways that Black health outcomes are influenced by a history of scientific racism, examining his own proximity to techno-solutionist monocultures and the medical industry as a starting point. He holds a B.S. in Computer Science from Northwestern University, where he focused on Human-Computer Interaction and Learning Sciences.
Cassie Tarakajian (@hellothisiscass) (they/them) is an Armenian-American educator, technologist, musician, and artist based in Brooklyn, NY. After receiving a Bachelor's degree in electrical engineering from Johns Hopkins University, they focused their work on creative tools, working on the software Max/MSP at Cycling '74 and joining Processing Foundation as the p5.js Web Editor lead in 2016. They also teach creative coding workshops and classes, and serve as an adjunct professor at NYU ITP. Past artistic projects range from generating sonnets from Wikipedia contributions to teaching computers how to love as a member of the band Lullabies for AI.
Char Stiles (@CharStiles) is an artist, educator and programmer based in Brooklyn, NY, and the creator of the collaborative shader.place arts-programming environment. She works creatively in the lower levels of computational systems to bring to light how computers work. Char works and collaborates across mediums such as interactive installation, video, performance and web. She is a part of the Livecode.nyc collective, where she organizes shows, and livecodes music and visuals. She has livecoded for Alexander Wang, VIA Festival, and the School for Poetic Computation among others. She has given talks and led workshops at Duke University, Parsons School of Design, University of Limerick, Music Community Lab at New York University, Xi Fellowship at Massachusetts Institute of Technology, Art Center College of Design, Recurse Center, MUTEK and Carnegie Mellon University. She is online at charstiles.com.
Chris Coleman (@digitalcoleman) was born in West Virginia, USA and he received his MFA from SUNY Buffalo in New York. His work includes sculptures, videos, creative coding and interactive installations. Coleman has had his work in exhibitions and festivals in more than 20 countries including Brazil, Argentina, Singapore, Finland, the U.A.E., Italy, Germany, France, China, the UK, Latvia, and across North America. Chris is Director of the Clinic for Open-Source Arts at the University of Denver—a partner organization for our OSSTA residency program—which works to explore, support, and celebrate local and global efforts to make free and open-source tools that allow people to be creative with digital technology.
evelyn masso (@outofambit) is a person (all the time), an engineering manager (on weekdays), and a poet (on weekends). She's been working in and around open source software since 2017, primarily on p5.js and GitHub Desktop. She likes to talk about mixed identities, queer poetry, and her recent love for running. Originally from Ohio, she currently lives on unceded Tongva land (near Los Angeles) and uses she/they pronouns.
Everest Pipkin (@everestpipkin) is a drawing and software artist from Central Texas, who produces intimate work with large data sets. Through the use of online archives, big data repositories, and other resources for digital information, they aim to reclaim the corporate internet as a space that can be gentle, ecological, and personal. They hold a BFA from University of Texas at Austin, an MFA from Carnegie Mellon University, and have shown nationally and internationally at The Design Museum of London, The Texas Biennial, The XXI Triennale of Milan, The Photographers Gallery of London, Center for Land Use Interpretation and others. They are developing a large list of tiny tools.
Kate Compton (@GalaxyKate) is a long-time generative artist, inventor, programmer and assistant professor of instruction at Northwestern University. She wrote the first paper on procedural platform-game levels, generated the planets for the video game Spore, created the language Tracery which runs over 10000 community-made bots on Twitter and invented an early phone-based AR system. Her mission is to design artificial intelligence to augment human creativity and to create tools that brings AI into the hands of poets, artists, kids and weirdos.
Luca Damasco (@Lucapodular) makes things that help people make things. He develops digital tools for artists, students, and teachers while working as an educator and creative technologist. In his creative technology roles, Luca has worked for Riot Games as a Technical Artist, contributed to The Processing Foundation's Python mode project, and runs WickEditor.com, a free, open-source, animation and game creation tool. Luca currently teaches Creative Coding at New York University's Integrated Digital Media program, and previously taught Interactivity at Carnegie Mellon University's School of Art.
Luis Morales Navarro (@luismn0_0) is a graduate student in the Learning Sciences and Technologies program at the University of Pennsylvania, and a contributor to p5.js. His background is in middle school computer science, open-source software development, and physical computing. He is interested in issues of access, inclusion, and motivation in learning to code, and the role communities play in the development of computational fluency.
Marina Ayano Kittaka (@even_kei) is an artist and video game developer best known as the co-creator of the Anodyne series and Even the Ocean. She also wrote the essay Divest from the Video Games Industry! Through developing tools like Zonelets, Marina dreams of a decentralized and vibrant internet culture, the stolen birthright of the modern human-loving introvert. She sees a future where corporate social media sites are dry and desolate wastelands, filled only with links to other sites that we actually enjoy.
Nathalie Lawhead (@alienmelon) is a net-artist and award winning game designer that has been creating experimental digital art since the late 90's. Work include titles such as the IGF winning Tetrageddon Games, "Everything is going to be OK"; and the Electric Zine Maker.
Oz Ramos (@midiblocks) is a creative technologist on a mission to bridge together the assistive tech and creative tech communities through the development of Handsfree.js, a library and set of tools for working with hand and face tracking in the browser. Oz was inspired to begin working on what became Handsfree.js in 2018 while he was homeless after meeting another resident at the shelter who was there recovering from a severe stroke that left him unable to communicate their remote with friends and family. Oz's commitment to the project stems from his belief that by onboarding millions of new people into the arts and tech, humanity will accelerate into the future a little bit faster.
Patricio Gonzalez Vivo (@patriciogv) is an artist and engineer from Buenos Aires who makes digital art from repurposed e-waste as an alchemical practice. His work is technically-sophisticated-meets-playful-tinkering. He's the author of The Book of Shaders, glslViewer, and the PixelSpirit Deck. Patricio's work has been shown at EYEO, Resonate, GROW, FRAMED, FILE, Espacio Fundación Telefónica, and FASE. He's taught at Parsons The New School, NYU ITP, and the SFPC (School for Poetic Computation).
Reza Ali (@RezaAli) is a Los Angeles based designer, software engineer and maker. He is passionate about making novel creative tools and exploring the kinds of new visual aesthetics that can be made using those tools. Reza is the creator of Satin, a 3D graphics framework built on Apple's Metal library.
Valencia James (@valjamdance) is a Barbadian freelance performer, maker and researcher interested in the intersection between dance, theatre, technology and activism. She believes in the power of the arts to inspire change. In 2013 Valencia co-founded the AI_am project, which explores the application of machine learning and artificial intelligence in dance. The project has been presented at several international forums such as the 2015 International Joint Conference on Artificial Intelligence in Buenos Aires and premiered their first evening-length work in Budapest and Gothenburg in 2017. Valencia creates solo works which explore stereotypes and post-colonial narratives and has performed internationally. Valencia co-founded the Volumetric Performance Toolbox, a collaborative project with Glowbox and Sorob Louie, which envisions live online volumetric performance as a new way for artists to create and perform from their own living spaces and audiences to communally experience art using minimal equipment.
---
More than ever, today's media artists create their work using a suite of free programming toolkits made for artists, by artists. These open-source software toolkits for the arts, or OSSTAs are created by individuals and small, self-organized collectives of artists, designers, and educators in order to fulfill needs that are unmet (and probably unmeetable) by the marketplace. Generally, these toolkits take the form of software libraries: bundles of code, associated documentation, and work examples that are free and accessible. Because they are made by artists for artists, they reflect and respond to the specific needs and vision of artists and designers. This ground-up approach allows for a community to unlock creative potential by defining its own tools, rather than be subject to the whims of major corporations.
Although these toolkits are developed and maintained by a relatively small number of people, they have become one of the primary means by which hundreds of thousands of artists, designers, and researchers all over the world create their work. Along the way, these toolkits have promoted software literacy within the arts, and arts literacy within technology—with the result that they are now one of the essential set of tools for making media art today.
Despite their widespread use, however, the development of these important toolkits has remained a labor of love: they are often intermittently maintained by widely dispersed individuals, often without pay, in their spare time. This is difficult to sustain, and creates barriers to access for those without the means to volunteer their time. Suffering jointly from the underfunding that affects the arts as well as the underfunding that affects open-source software projects, the future of these initiatives is precarious. We seek to address this by creating contexts to strengthen these tools and to support the vibrant artist communities that have grown from them. Because these tools are created by few but used by many, we are confident that every "dollar in" is returned to the public many times over.
During spring 2021, with support from the National Endowment for the Arts and in partnership with the Clinic for Open-Source Arts, the STUDIO hosted a "remote group residency" for the participants listed above. These artist-developers received support towards the development of their toolkits, worked with CMU arts students as apprentices; and discovered new connections to each other as a community of practice.
(Adapted from the STUDIO's OSSTA Convening Report by Lauren McCarthy and Golan Levin, February 2021.)
---
The STUDIO's Spring 2021 #OSSTA Residency Program is made possible by a grant from the National Endowment for the Arts, and is produced in partnership with the Clinic for Open Source Arts, and with support from the David & Sylvia Steiner Lecture Series at CMU.