(SOLD OUT) PLASTIC DREAMING: MATMOS IN CONCERT at WQED
November 4, 2023 7:30 PM–8:30 PM
4802 Fifth Ave, Pittsburgh, PA 15213
Freida Abten, Matmos
This Event is Sold Out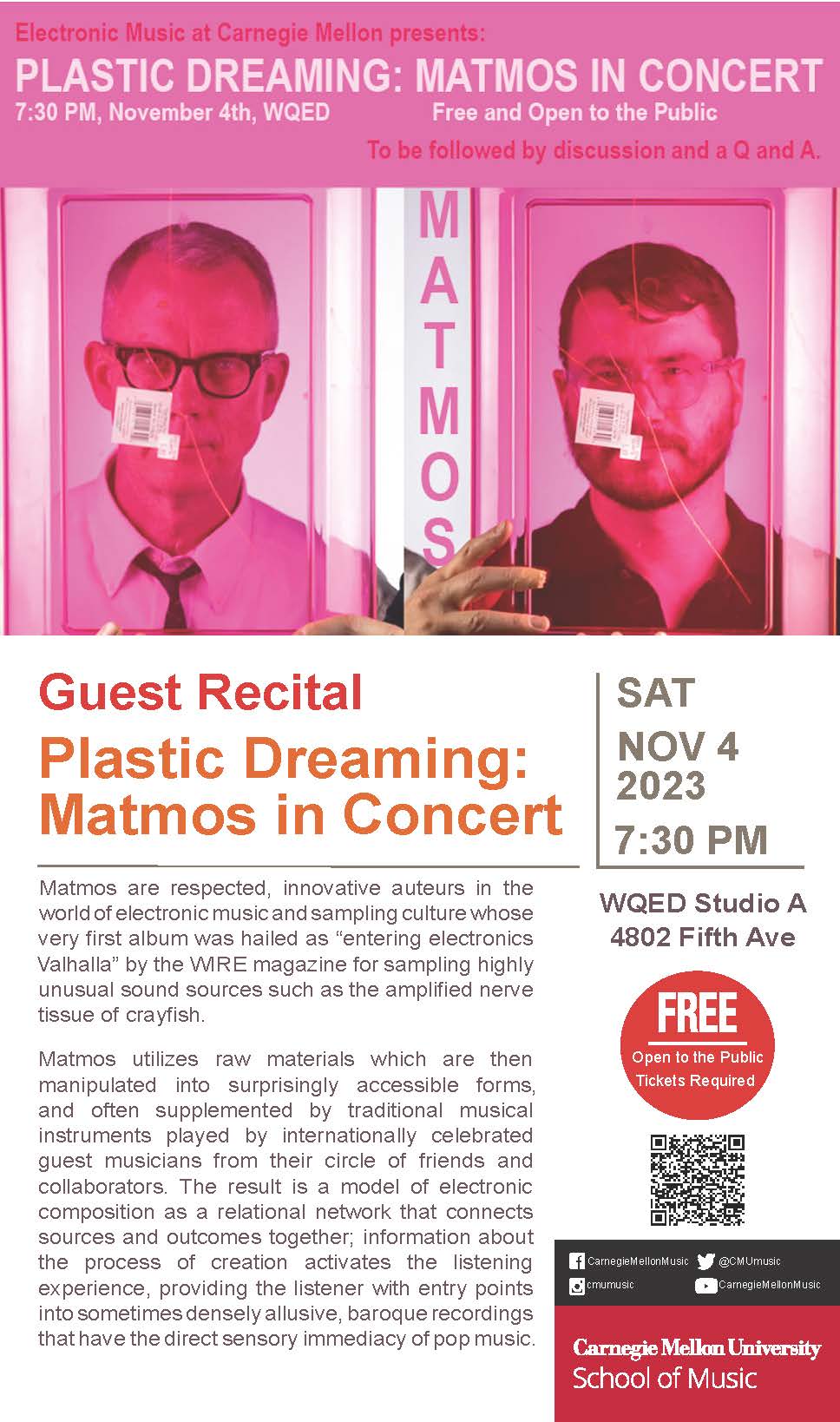 Matmos are respected, innovative, auteurs in the world of electronic music and sampling culture whose very first album was hailed as "entering electronics Valhalla " by the WIRE magazine for sampling highly unusual sound sources such as the amplified nerve tissue of crayfish. Ever since, they have made music out a wildly heterogeneous set of objects and sources, including the sound of the pages of bibles turning, water hitting copper plates, liposuction surgery, cameras and VCRs, chin implant surgery, contact microphones on human hair, rat cages, tanks of helium, a cow uterus, human skulls, snails, cigarettes, cards shuffling, laser eye surgery, whoopee cushions, balloons, latex fetish clothing, rhinestones, Polish trains, insects, life support systems, inflatable blankets, rock salt, solid gold coins, the sound of a frozen stream thawing in the sun, a five gallon bucket of oatmeal, snails interrupting the path of a laser and altering the pitch of a light sensitive theremin, a PVC police riot shield, silicone breast implants, and their own washing machine.
These raw materials are manipulated into surprisingly accessible forms, and often supplemented by traditional musical instruments played by internationally celebrated guest musicians from their circle of friends and collaborators. The result is a model of electronic composition as a relational network that connects sources and outcomes together; information about the process of creation activates the listening experience, providing the listener with entry points into sometimes densely allusive, baroque recordings that have the direct sensory immediacy of pop music.
This event, co-sponsored by the 2023-2024 Sylvia and David Steiner Speaker Series is currently free and open to the public, however due to high demand, it may soon require an RSVP. Contact Freida Abtan, faculty in CMU School of Music for more information.