Music Video Project – MFA Director's Lab
February 2, 2023 5:15 PM–6:15 PM
4919 Frew Street
College of Fine Arts, Room 111
MFA Director's Lab School of Drama / John Wells Directing Program in collaboration with Video & Media Design Program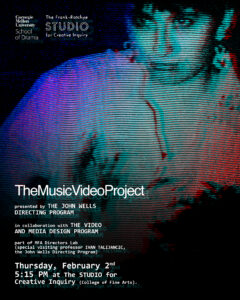 Last semester, graduate John Wells Directing Fellows (School of Drama) collaborated with Video/Media design students on the Music Video Project, as part of the MFA Directors Lab course taught by Ivan Talijancic, Special Visiting Professor at the School of Drama's John Wells Directing Program.
Four directing Fellows were prompted to choose a character from a classical play, then select a song from the popular domain and direct a music video that amalgamates the two tracks in unexpected ways. Eschewing the conventional, realistic narrative so often used in this form, the directors favored an impressionistic / abstract form of expression. The resulting videos are enigmatic, open-ended works that elicit the viewer's imagination without hammering in finite interpretations, but rather posing thought-provoking questions.
These first iterations of the Music Video Projects will be publicly screened at the Frank-Ratchye STUDIO for Creative Inquiry on Thursday, February 2 at 5.15pm.
Join us in watching the four videos, followed by a Q&A with the directors, and to learn about future iterations of this project!