John Wells MFA Directing Fellows Short Film Screening
April 26, 2022 6:00 PM–7:00 PM
STUDIO for Creative Inquiry
College of Fine Arts - Rm 111
Carnegie Mellon University
The 1st and 2nd Year John Wells MFA Directing Fellows are proud to share our short films with the CMU and Pittsburgh communities. Written and directed by the Fellows in Melissa Martin's "Directing for Film" class, these shorts feature the work of talented local filmmakers and performers from CMU and beyond.
Free and open to the public: RSVP here!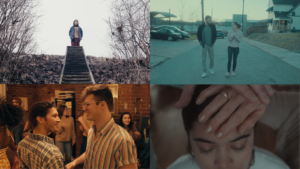 Program:
"meet me at the river"
Written and Directed by B Kleymeyer
Amy: Tessa Weinland
Sarah: Sophia Power
"moonie girl"
Written and Directed by Jasmine Roth
Lucy: Kathryn Kapanta
Mom: Adrienne Wehr
Dad: Geoff Gerber
"Jim and Mary"
Written and Directed by Peter Andersen
Jim: Drew Bos
Mary: Rayven Bailey
Chris: Kevin TappanJr
Mark: Josh Kurnot
"Last"
Written and Directed by Rebecca Wahls
Monica: Brittany Martz
Noah: Tristan Hernandez
Tessa: Meghan McLeod
Director of Photography: Kevin Galloway
Grip: D'Aura Ponton
Sound (for Jim and Mary and Last): Scott Geibel Jr.
Sound (for moonie girl and Meet Me By the River): Josh Poe
____
Rebecca Wahls directs theatre, new media, and film. Rebecca runs the non-profit Who What Where Theater Collective, where she produced and directed two world premiere plays: Spills by Ruthie Rado and We Found the Wild Things by Andrew Reid. She directed Monumental Theatre Company's 4-time Helen Hayes Award nominated production of Pippin and worked as Studio Theatre's Artistic Coordinator in Washington, DC. Rebecca's explorations in new media include 2018's Midnight Tracks, an audio play with music available on Who What Where's mobile app and Memory Card, a 20-minute fully live digital horror piece. Teaching is an important part of her practice, and she presented her talk "Yes, And: The Power of Improv in Everyday Life" at the 2022 CMU TEDx Conference. Upcoming theatre work: tick, tick…BOOM! (Fort Salem Theatre, 2022), this old haunt (CMU 2022). www.rebeccawahls.com
Peter Andersen is a director whose work interrogates, adapats, and reimagines classical plays with Queer and POC artists.  He is currently pursuing his MFA in directing at Carnegie Mellon.  He is also a graduate of Emerson College where he obtained his BFA in Acting.  Some directing projects include: American Myth, The Kennedy Plays, Queer Shakespeare, 21, The Cafe Collections, O/A: The Sophocles Project, As You Like it, Macbeth, Measure for Measure.  He has also worked at TimeLine Theatre, Huntington Theatre Company, Oregon Shakespeare Festival, Yale Repertory Theatre, Writers Theatre, and American Players Theatre as an assistant director.  Upcoming Projects include: As You Like It; A Midsummer Night's Dream.
B Kleymeyer (she/they) is a director and deviser of new work for the stage, screen, and found spaces. They facilitate from a trans lens and with a queer sensibility to examine our relationship to power and pop culture. She is a John Wells Directing Fellow at Carnegie Mellon University and a company member of Single Carrot Theatre in Baltimore, Maryland. Recent projects include the world premiere of R. Eric Thomas' Safe Space as well as Pink Milk, we broke up., The Real Girls, and 차'nt. Upcoming theatre work includes Kiss Me Mr. Musk (Single Carrot Theatre). She has also worked at The Kennedy Center, Cohesion Theatre, and the University of Maryland as an assistant director. www.bkleymeyer.com
IG: @beekleymeyer
Jasmine Roth (she/they) is generative director-choreographer investigating power, agency, community and change with both teen and professional ensembles. Her work for the past few years has been primarily on the stages of Something Something Theatre Company (Men on Boats, The How and the Why, What Every Girl Should Know) and Arizona Theatre Company (Summer on Stage: Matilda, Macbeth, Polaroid Stories, Assistant Dir. Music Man, Veteran's Playwriting Project Staged Readings) and as a dancer/choreographer with ZUZI Move it! Dance Company. Before becoming a John Wells Directing Fellow at Carnegie Mellon University, Jasmine studied theatre and dance at Union College in upstate NY, where she graduated Summa Cum laude and trained with New York Stage and Film's Powerhouse Apprentice Program, Saratoga Shakespeare Company, SITI Company and the National Vietnamese Opera in Hanoi. Upcoming projects include Dance Nation in the fall of 2022 and workshop performances of Vice Wheels and 차'nt this spring. www.jasminenicoleroth.com