Faunal Eye
March 17, 2023 5:30 PM–March 17, 2023 7:30 PM
4919 Frew St
Frank-Ratchye STUDIO for Creative Inquiry
CMU College of Fine Arts, Rm 111
Inbar Hagai, Rebecca Shapass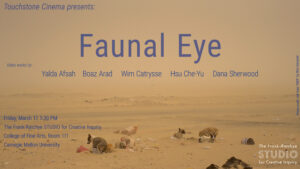 Can we truly see animals without projecting ourselves onto their reflected gaze? Can the tools we use to observe the world, designed for human perception, capture a glimpse of a nonhuman substance? The works in this screening examine the realities of domestication, conditioning, and instrumentalization of non-human bodies, whose experience ever remains unbridgeable to us. While they may not be entirely free of anthropomorphism (and perhaps no man-made work can ever be), they utilize the moving image to observe and reflect these existing systems of human dominance, rather than reducing the non-human to a mere tool for human storytelling.
* Thank you to Marianne Hoffmeister Castro for her programming support.
Content Warning
Please be advised that one of the video works to be screened includes a deceased rabbit.