Center for the Arts in Society presents: Twice Performing Objects
–
Thursday October 30th,  4:30-6pm
Frank-Ratchye STUDIO for Creative Inquiry, CFA Room 111
In a this free lecture, Michael Jones McKean — maker of giant rainbows — discusses strategies for art in public space. Presented by the CMU Center for the Arts in Society.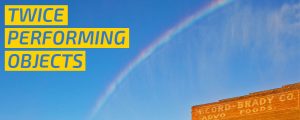 Michael Jones McKean explores through sculpture the possibilities of de-anthropomorphism, a universe where human thought is not a correlate to reality – a place where objects, substances and things live equal to humans. In this construct the conditions of performance including its link to ceremony, theatricality, shamanism as well as its more basic utilities and capacities are re-coordinated. As we continue un-tooling anthropocentrism in philosophy, anthropology, art, ecology and the sciences more broadly, the inherent and largely functional link between art objects and their performed, twice behaved life begins to change. That change will be explored among other things in this speculative session.
McKean is an internationally acclaimed artist who's the recipient of numerous awards including a Guggenheim Fellowship, a Nancy Graves Foundation Award and an Artadia Award. McKean has been awarded fellowships at The Core Program at the Museum of Fine Arts, Houston, The MacDowell Colony, The International Studio and Curatorial Program in New York City, The Provincetown Fine Arts Work Center, The Bemis Center for Contemporary Arts and the Marie Walsh Sharpe Space Program in New York City. Recent exhibitions include the Center for Curatorial Studies: Bard, Annedale-On-Hudson, NY, Horton Gallery: New York, NY, Manifestation Internatiationle d'art de Quebec Biennale, Gentili Apri: Berlin, Germany, The Art Foundation: Athens, Greece, Favorite Goods: Los Angeles, CA, Parisian Laundry: Montreal, Canada and Shenkar University, Tel Aviv, Israel. McKean is an Associate Professor at Virginia Commonwealth University in the Sculpture + Extended Media Department where he has taught since 2006.