Deep Lab Book
The Deep Lab Book
Featuring contributions by Addie Wagenknecht, Allison Burtch, Claire L. Evans, Denise Caruso, Harlo Holmes, Ingrid Burrington, Jillian C. York, Jen Lowe, Kate Crawford, Lindsay Howard, Lorrie Faith Cranor & CUPS, Maddy Varner, Maral Pourkazemi, and Runa A. Sandvik.
We are thrilled to announce the publication of the Deep Lab book, a 240-page compilation of reflections on digital culture, the post-Snowden Internet, and cyberfeminism. Created in five days by a dozen women, this book represents the capstone to Deep Lab, a residency hosted by the Frank-Ratchye STUDIO for Creative Inquiry in collaboration with CMU's CyLab Usable Privacy and Security Lab. The book is available in both print-on-demand and digital formats:
Deep Lab is a congress of cyberfeminist researchers, organized by STUDIO Fellow Addie Wagenknecht to examine how the themes of privacy, security, surveillance, anonymity, and large-scale data aggregation are problematized in the arts, culture and society. During the second week of December 2014, the Deep Lab participants—a group of internationally acclaimed new-media artists, information designers, data scientists, software engineers, hackers, writers, journalists and theoreticians—gathered to engage in critical assessments of contemporary digital culture. They worked collaboratively at the STUDIO in an accelerated pressure project, blending aspects of a booksprint, hackathon, dugnad, charrette, and a micro-conference. The outcomes of this effort include the visualizations, software, reflections and manifestos compiled in this book; an album of ten lecture presentations, the Deep Lab Lecture Series, which can be viewed in the STUDIO's online video archive; and a forthcoming twenty-minute documentary film featuring interviews with the Deep Lab participants.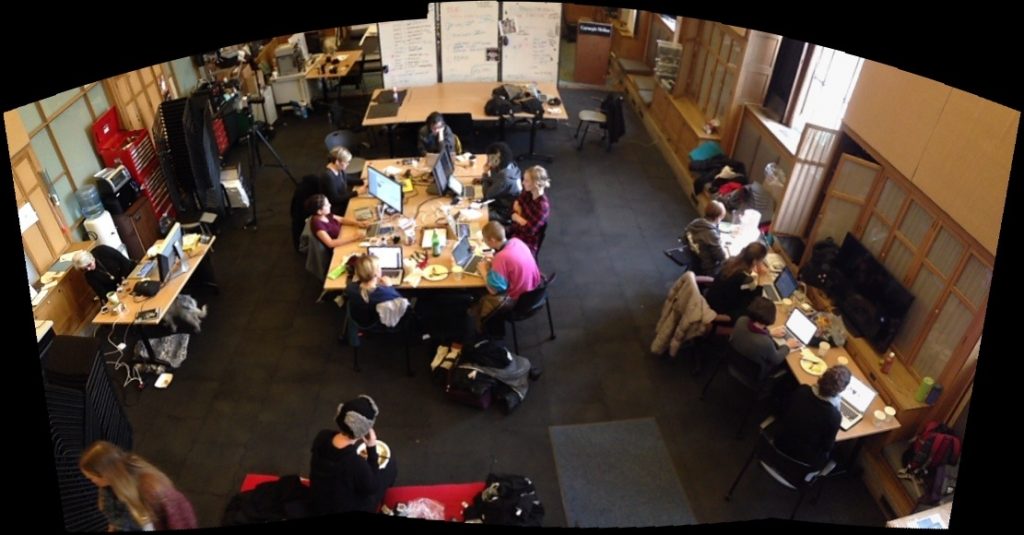 The first phase of Deep Lab's research and publications are the product of a group residency at the Frank-Ratchye STUDIO for Creative Inquiry at CMU, in partnership with the CyLab Usable Privacy and Security (CUPS) Laboratoryat CMU, and made possible through support from The Andy Warhol Foundation for the Visual Arts and the Art Works program of the National Endowment for the Arts. We express our sincere gratitude to these sponsors for making this investigation possible.
ISBN: 978-1-312-77551-0
First edition, copyright Deep Lab (CC BY-NC-SA 4.0)
Published 2014-12-23 by Deep Lab and the Frank-Ratchye STUDIO for Creative Inquiry
240 full-color pages, 8.5″x11″