Spring 2018 Steiner Lectures in Creative Inquiry
Spring 2018 Program
Announcing the Spring 2018 Steiner Lecture Series in Creative Inquiry! This spring, the STUDIO is thrilled to feature talks and workshops by Pamelia Stickney, Gene Kogan, Bruce Sterling, Jenny Odell, Kelli Anderson, and Mimi Onuoha. This program is made possible through the support of the Sylvia and David Steiner Speaker Series.
---
Pamelia Stickney
6:00pm Thursday, January 25th, 2018
CMU Hunt Library, Room A10A (map)
Refreshments will be served. Open to the public.

Virtuosic thereminist Pamelia Stickney (formerly Kurstin) was born in Los Angeles, California in 1976. Playing piano from the age of two, at age 12, she was introduced to the violin, viola, and cello. Eventually she grew just tall enough to play contrabass and began her professional career as a jazz/rock musician at 18. While recording with the band Geggy Tah (Luaka Bop) in 1997, her bandmates showed her the film "Theremin: An Electronic Odyssey" by Steven Martin – which inspired her to learn this unusual and uniquely challenging electronic instrument. Pamelia's background with string instruments and as a jazz bass player influenced her signature playing techniques, expanding the expressive possibilities of the instrument as presented in her 2002 TED talk. In 2003 she began to perform her solo "theremin orchestral" works, in which she improvises using looping pedals. This led to her debut solo album, "Thinking Out Loud" released on John Zorn's Tzadik label in 2007.
Pamelia has become one of the world's most sought-after thereminists. She performs, collaborates and records with a wide variety of artists and ensembles, including Seb Rochford, actress Anne Bennent, Simone Dinnerstein, Kontrapunkt Ensemble of the Vienna Musikverein, Grace Jones, Arthur Blythe, Gerry Gibbs, Sebastien Tellier, Bela Fleck & the Flecktones, the Cape Symphony Orchestra, and more.
In 2005 she moved to Vienna from New York. Following her Tzadik album was a collaboration with Seb Rochford, "Ouch Evil Slow Hop" (slowfoot records, 2011 UK). In Vienna she founded the oddmeter fusion-rock-spazzjazz band Blueblut, and a jazzical trio Scrambolage (with Melissa Coleman, cellist, Monika Lang, piano). In 2017 Stickney produced the free album 'Transcendental Dissonance' , which led to the birth of the New York based quartet of the same name which will be performing throughout New York State later this fall.
---
Gene Kogan
5:00pm Monday, February 5th, 2018
Frank-Ratchye STUDIO for Creative Inquiry
CMU College of Fine Arts, Room CFA-111 (map)
Refreshments will be served. Open to the public.
Gene Kogan (@genekogan) is an itinerant artist and computer scientist, interested in the creative potential of generative systems, artificial intelligence, and new software for self-expression. He regularly publishes lectures, writings, and tutorials to facilitate a greater public understanding of machine learning; to this end, Gene initiated and contributes to ML4A, a free book about machine learning for artists, activists, and citizen scientists. He is also a collaborator on numerous open-source software projects, and leads workshops and demonstrations around the world on topics at the intersection of code, art, and technology activism.
---
Bruce Sterling
5:00pm Wednesday, March 7th, 2018
CMU College of Fine Arts, Kresge Auditorium (map)
Refreshments will be served. Open to the public.
A futurist, journalist, science-fiction author and design critic, Bruce Sterling (@bruces) is best known for his novels and his seminal work on the Mirrorshades anthology, which defined the cyberpunk genre. His nonfiction works include The Hacker Crackdown: Law and Disorder on the Electronic Frontier (1992); Tomorrow Now: Envisioning the Next Fifty Years (2002), a popular science approach on futurology, reflecting technology, politics and culture of the next 50 years; and Shaping Things (2005), a rumination on programmable, networked objects. Sterling has also initiated various projects like The Dead Media Project, the Viridian Design Movement and Embrace the Decay.
In 2003 Sterling was appointed Professor at the European Graduate School, where he has taught courses on media and design. He has written for many magazines, including Newsweek, Fortune, Harper's, Details, Whole Earth Review, and WIRED, where he has been a contributing writer since its inception. He has appeared on Nightline, The Late Show, Morningside, MTV, and TechTV and in Time, Newsweek, The Wall Street Journal, The New York Times, Fortune, Nature, I.D., Metropolis, Technology Review, Der Spiegel, La Stampa, La Repubblica, and many other venues. Currently he lives in Turin, Italy.
---
Jenny Odell
6:30pm Thursday, March 29th, 2018
Frank-Ratchye STUDIO for Creative Inquiry, CFA-111
CMU College of Fine Arts, Room CFA-111 (map)
Refreshments will be served. Open to the public.
Jenny Odell (@the_jennitaur) is a Bay Area native/captive. Her work combines the mining of online imagery with writing and research, usually in an attempt to highlight the material nature of our modern networked existence. Because her practice involves collecting, tagging and cataloguing, she has often been compared to a natural scientist – specifically, a lepidopterist. Jenny's work has made its way into the Google Headquarters, Les Rencontres D'Arles, Arts Santa Monica, Fotomuseum Antwerpen, La Gaîté lyrique (Paris), the Lishui Photography Festival (China), the Made in NY Media Center, Apexart (NY), and East Wing (Dubai). It's also turned up in TIME Magazine's LightBox, The Atlantic, The Economist, WIRED, the NPR Picture Show, PBS News Hour, and a couple of Gestalten books. She teaches internet art and digital/physical design at Stanford University. She would spend 80% of her life in a library if she could.
---
Kelli Anderson
6:30pm Tuesday, April 10th, 2018
Frank-Ratchye STUDIO for Creative Inquiry
CMU College of Fine Arts, Room CFA-111 (map)
Refreshments will be served. Open to the public.
"Kelli Anderson is one of the most talented, thoughtful, inspiring young designers working today, bringing to each project an artist's flair, a scientist's rigor, and a philosopher's deliberation." —Maria Popova, Brainpickings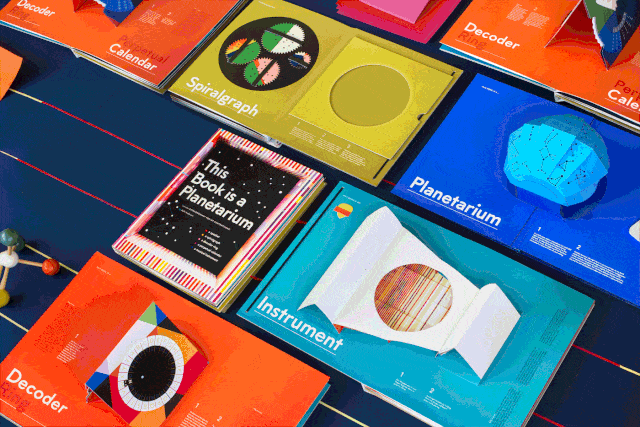 Kelli Anderson (@kellianderson) is an artist/designer and tinkerer who draws, photographs, cuts, prints, codes, and creates a variety of designed things for herself and others. From interactive paperforms to layered, experimental websites, Kelli subverts expectations by injecting humor and surprise into everyday objects. In fall 2017, she published This Book Is a Planetarium: And Other Extraordinary Pop-Up Contraptions, a book about how humble materials can perform extraordinary feats—and featuring a tiny, pop-up planetarium and other functional contraptions.
Kelli writes: "In my work, I try to better understand how things work so that I might demonstrate their surprising capabilities hidden in plain sight. However, lo-fi research methods are also being used in (what would traditionally be considered) high-tech fields. Using strategies like origami, engineering labs are also seeking ways to make complex problems tangible—to open then up to physical intuition. By engaging abstractions tangibly, we often find surprising possibilities hidden in plain view."
---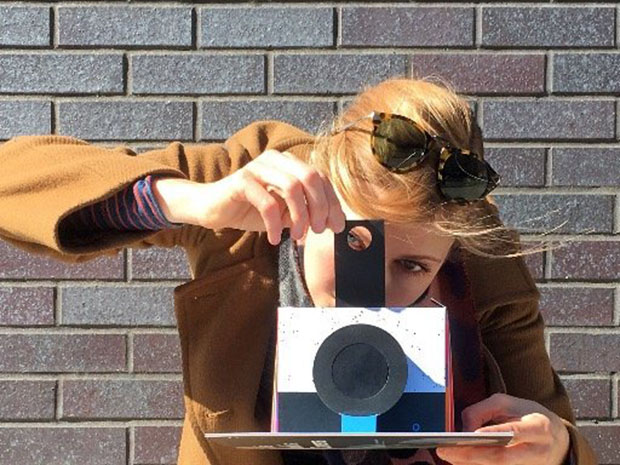 Mimi Onuoha
6:30pm Tuesday, April 24th, 2018
Frank-Ratchye STUDIO for Creative Inquiry
CMU College of Fine Arts, Room CFA-111 (map)
Refreshments will be served. Open to the public.
Mimi Onuoha (@thistimeitsmimi)  is an artist and researcher examining the implications of data collection and computational categorization. Her work uses code, writing, and sculpture to explore missing data and the ways in which people are abstracted, represented, and classified.
Based in Brooklyn, Onuoha has been in residence at Eyebeam Art & Technology Center, the Data & Society Research Institute, Columbia's Tow Center, and the Royal College of Art. She has spoken and exhibited in festivals internationally, and in 2014 was selected to be in the inaugural class of Fulbright-National Geographic Digital Storytelling Fellows. She currently is a contributor at Quartz, where she uses code and data to tell stories about the implications of emerging technologies. Her interests include data collection, missing datasets, sculptures about algorithms, information visualization, and zines. Onuoha once tried (and failed) to find out where her electricity comes from.
Onuoha earned her B.A. from Princeton University and an MPS from the NYU Interactive Telecommunications Program. She is presently a visiting faculty member in the division of Visual and Performing Arts at Bennington College, where she teaches courses in "Impossible Maps" and "A Philosophy of Data".