Diversity: Seven Voices on Race, Gender, Ability & Class for FLOSS and the Internet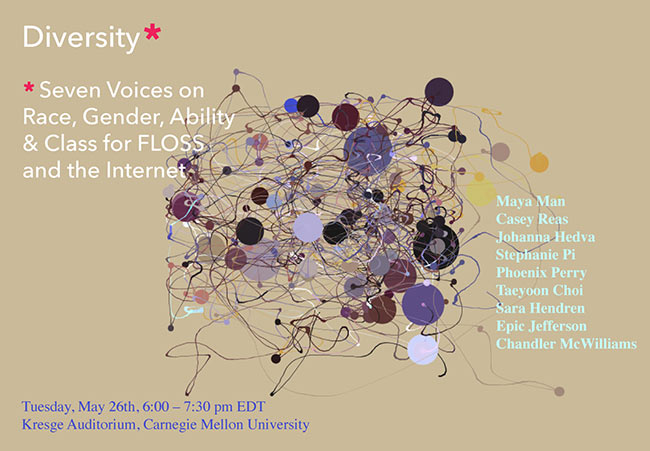 Tuesday, May 26th, 6:00  – 7:30 pm EDT
Kresge Auditorium, Carnegie Mellon University
College of Fine Arts building (Google map)
This event is free and open to the public.
Introduction: Lauren McCarthy / Moderator: Maya Man / Panelists: Casey Reas & Johanna Hedva • Stephanie Pi • Phoenix Perry • Taeyoon Choi • Sara Hendren • Epic Jefferson • Chandler McWilliams
The first-ever p5.js Contributors Conference kicks off with a panel discussion of seven distinct points of view on the ways in which race, gender, class, and ability function—or don't—within FLOSS (free/libre open-source software) and the Internet. Topics up for discussion range from what is considered "normal," to ways to be an ally, to navigating a mid-career change to tech as a woman of color, and more.
Biographies
Casey Reas (@reas) lives and works in Los Angeles where he is a Professor at UCLA's Department of Design Media Arts. His software, prints, and installations have been featured in numerous solo and group exhibitions at museums and galleries in the United States, Europe, and Asia. Casey co-founded Processing with Ben Fry in 2001.
Johanna Hedva (@bighedva) is an artist and writer from Los Angeles, and the Assistant Director of the Processing Foundation. As a queer spoonie woman of color poet, her practice is necessarily an effort to embody an intersectional-feminist, anti-racist, queer, neuro-atypical, and anti-capitalist politics.
Stephanie Migdalia Pi Herrera (@pi_inthecloud) is a Latina feminist chonga, born and raised in Miami. She is a linguist turned web developer and currently resides in Seattle, Washington. She enjoys coding, hiking, and strategizing against patriarchy and white supremacy.
Phoenix Perry (@phoenixperry) creates physical games and experiences. In advocacy for women in game development, she founded Code Liberation Foundation. At HKU University of the Arts Utrecht in the Netherlands, she teaches as a Senior Lecturer in interaction design and games while pursuing her PhD in Computer Science at Utrecht University.
Taeyoon Choi (@tchoi8) is a New York and Seoul-based artist. He's the co-founder of School for Poetic Computation, and an artist-in-residence at Lower Manhattan Cultural Council Workspace. He's currently working on a commission from Art + Technology Lab, Los Angeles County Museum of Art. http://sfpc.io
Sara Hendren (@ablerism) is an artist, design researcher, and professor based in Cambridge, Massachusetts. She teaches socially engaged design practices, adaptive + assistive technology design, and disability studies for engineers-in-training in her role as assistant professor at Olin College. She writes and edits Abler.
Epic Jefferson's (@epicjefferson ) research focuses on sound design and interfaces for the performance of sound. He's currently pursuing a Masters in Tangible Interaction Design from Carnegie Mellon University. Since 2013, he's co-directed the LED (Lab for Erroneous Design), Puerto Rico's first hackerspace.
Chandler McWilliams (@brysonian) is an artist and writer living and working in Los Angeles. He has an MA from The New School For Social Research and an MFA from the Program in Art at the California Institute of the Arts. He currently teaches in the Design Media Arts program at UCLA.
---
This panel symposium is a component of the first p5.js Contributors Conference, and was made possible by a grant from the National Endowment for the Arts, and generous support from the NYU Interactive Telecommunications Program (ITP), the Processing Foundation, TheArtificial, Bocoup, Darius Kazemi, and Emergent Digital Practices | University of Denver. Additional thanks to Dan Shiffman and Linda Hager for supporting this initiative.