Class Exhibitions: Experimental 2D Animation, Interactive Art, Computational Design
5:00-7:00pm Thursday, May 8, 2014: The STUDIO for Creative Inquiry hosts a double-exhibition of student projects in interactive art, computational design and experimental 2D animation!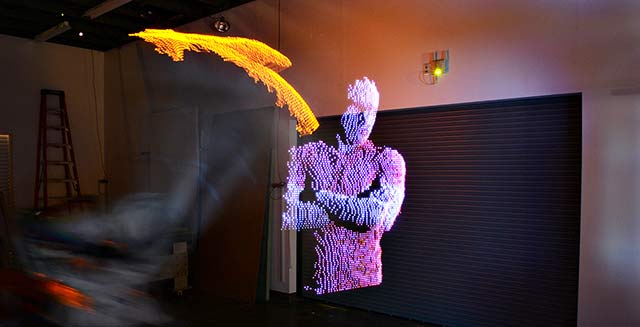 Please Join Us for a Double-Exhibition of Student Projects from
Golan Levin's course in
Interactive Art & Computational Design
(AKA "Freestyle Computing")
&
Paolo Pedercini's course in
2D Animation
(AKA "The Mickey Mousetrap: Reverse Imagineering Strategies
for the Disruption of the Disney-Pixar Hegemony")
+++++++++++++++++++
INTERACTIVE ART & COMPUTATIONAL DESIGN
Prof. Golan Levin presents final projects from his advanced studio course in arts-computing and new media practice — including information visualizations, experimental apps and software art — towards the of creation of new culture through exploratory software development. 

Featuring the work of: Afnan Fahim • Andre Le • Andrew Russell • Andrew Sweet • Austin McCasland • Brandon Taylor • Celine Nguyen • Chanamon Ratanalert • Collin Burger • Emily Danchik • Jeff Crossman • Joel Simon • Kevan Loney • Kevyn McPhail • MacKenzie Bates • Maya Kreidieh • Haris Usmani • Nastassia Barber • Paul Peng • Sama Kanbour • Shan Huang • Spencer Barton • Ticha Sethapakdi • Wanfang Diao • & Yingri Guan

2D ANIMATION 
Prof. Paolo Pedercini presents final projects from 2D Animation — featuring explorations in contemporary trends in digital animation and character design, with an emphasis on creative content, experimentation, critical thinking and collaboration working tools such as Adobe After Effects and Flash. 

Featuring the work of: Zoe Ambinder • Jacqueline Barnes • Ashley Baron-Moore • Christin Bongiorni • Vanessa Branch • Connie Dai • Rika Keener • Danielle Kogan • Mishq Laliwala • Alex Lee • Christina Lee • Justin Lin • Dervla McDonnell • Kyna McIntosh • Justin Old • Tyler Porten • Anna Shepperson • Eden Weingart • Cindy Xu • & Crystal Yip
This is a free event. Refreshments will be served.
Hey here's a FACEBOOK EVENT, tell us you're coming!
+++++++++++++++++++