Steiner Lecture in Creative Inquiry: George Buckenham
Monday, November 20th, 2017
Starting at 5:00 PM
Frank-Ratchye STUDIO for Creative Inquiry
CFA 111, Carnegie Mellon University
Refreshments will be served. Open to the public.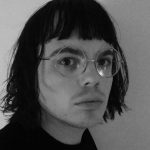 George Buckenham (@v21) is the creator of Cheap Bots, Done Quick!, a radically accessible Twitterbot tool, as well as many bots of their own, such as @softlandscapes, @unicode_garden, and dkmfxr0axh7rumhs3ppv.tumblr.com. They are also a game maker focusing on digital-physical play, having worked on games about animals falling over (Beasts of Balance), playing the piano (Doom Piano) and punching bowls of custard (Punch The Custard). And they also work as a video game curator with Now Play This and Wild Rumpus.
This lecture is made possible by the Sylvia and David Steiner Speaker Series and the Frank-Ratchye STUDIO for Creative Inquiry.