ART && CODE: Zachary Lieberman, Theodore Watson, and Arturo Castro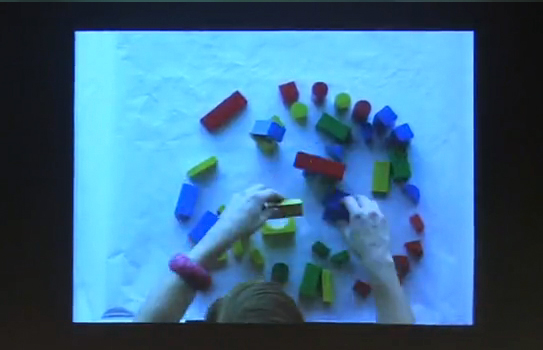 Zachary Lieberman's work uses technology in a playful and enigmatic way to explore the nature of communication and the delicate boundary between the visible and the invisible. He creates performances, installations, and on-line works that investigate gestural input, augmentation of the body, and kinetic response. Working with collaborator Golan Levin, he created a series of installations – "Remark" and "Hidden Worlds" – which presented different interpretations of what the voice might look like if we could see our own speech. These were followed with "Messa Di Voce", a concert performance in which the speech, shouts and songs of two abstract vocalists were radically augmented in real-time by interactive visualization software. The collaborators have toured and exhibited their works widely, much to the delight of their audiences. Lieberman's installation / performance "Drawn," in which live painted forms appear to come to life, rising off the page and reacting to the world around them, recently won awards in the Ars Electronica and CYNETart competitions. Most recently, he presented "Opensourcery," collaboration with Spanish magician Mago Julian, in which open source software is combined with traditional close-magic to create a completely new realm of tricks. Lieberman is currently developing a suite of software for disabled students that transforms their movement into an audio-visual response as a means for performance and self-expression. He is also collaborating with Theo Watson on an open source toolkit, openFrameworks, for creative coding in c++.
****
Theodore Watson is an artist, designer and experimenter whose work is born out of the curiosity and excitement of designing experiences that come alive and invite people to play. Theodore's work ranges from creating new tools for artistic expression, experimental musical systems, to immersive, interactive environments with full-body interaction. His recent work includes the Graffiti Research Lab's Laser Tag, laser graffiti system and Funky Forest, an immersive interactive ecosystem for young children. Theodore works together with Zachary Lieberman on openFrameworks, which is an open source library for writing creative code in C++.
****
Arturo Castro is currently based in Barcelona. He studied computer science and has collaborated in several creative projects since 2004. Arturo works with Zachary Lieberman and Theodore Watson in the development of openFrameworks, is the maintainer of the Linux version and leads the openFrameworks working group at Hangar (Barcelona).