ART && CODE: Keynote, Tom McMail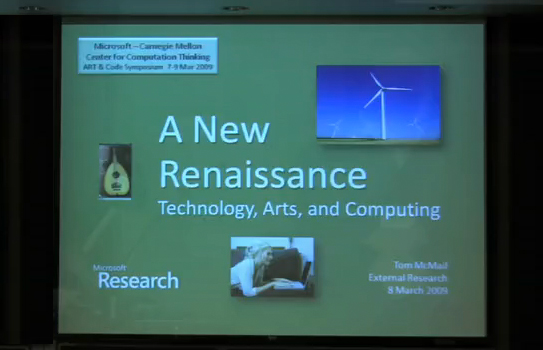 Tom McMail is passionate about innovation, education and technology as means for improving the human condition. After his first university training in Psychology and Psycholinguistics, he taught K-12 in many subjects and grade levels, then took a role as social worker for Head Start. He has also worked as a professional musician and composer, plays more than 20 instruments and has taught improvisation, as well as music theory and composition.
Overall, Tom has spent nearly 14 years at Microsoft in a variety of roles. At MSN, he used new technologies and techniques in support of special events and also created innovative plans for online community adopted across Microsoft.com properties. At Microsoft Research, in the External Research group, for the past two years he focused on seeking the most innovative new research and researchers emerging today as part of the Breakthrough Research initiative. Currently he is responsible for strategic collaboration programs with North American academic institutions and researchers.